Origo Desk Fixed/Hanging Drawer Assembly Guide
Quick Visual Assembly Guide
1. Place your Origo table top upside down on top of the cardboard box it arrives in or carpeted floor.
2. Hanging drawer needs to be prepared before they can be attached to the underside of the desk. The drawers are designed so you can attach either on the left side or the right side.
3. Each drawer has a release mechanism. Right side presses down, left side flip up and gently pullout the drawer.
3A. Left side flip up.
3B. Right side press down.
4. Lightly pullout the top drawer.
5. Repeat the process. Release the drawer then pull it out and off the rails.
All drawers removed. Ready for fixing to desk.
6. Position the hanging drawer on the underside of the desk.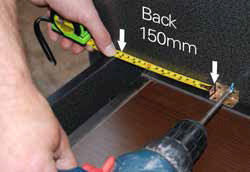 7A. Back-Side; use 6 hole L-Bracket and attach drawers to side.
7B. Front-Side; use 6 hole L-Bracket and attach drawers to side.
8. Attach drawers through the holes in the two support rails, to the underside of the desk with 4 timber screws.
2 screws at the front and 2 screws at the back, these timber screws fix straight in to desk.
8A. To attach drawers to underside of the table please use only these timber screws.

8B. These screws are are not required. Do not use. Please recycle them.
9. Rotate table in upright position. Be sure to take caution. Use carpeted areas to avoid scratching or scuffing.
10. Insert drawers on to the drawer runners. They will need to be pushed in to place.
11. Drawers inserted.
12. Open drawer.
13. Using a Phillips head screw driver detach handle and attach to right position.
Assembly Complete!