Acoustic Block Office Screens - Free Standing Office Partitions - 100% Australian Made!!
LEAD-TIME: 10-15 Working Days - All screens are made to order in your selected fabric
The Free Standing Block Acoustic Office Partition Screens are 100% Australian manufactured, the screens have a high sound absorption due to the 7 mm thick Polyester Soundmesh lining, which is fixed to a 40 mm MDF frame with a waffle pod carcass. The screens can be purchased with slide on feet and you can choose from a large range of fabric colours to suit.
Screen Benefits:
Free standing screen or partition divider

Lightweight easy to move and stable

Strong solid timber frame with durable feet options

Upholstered in a large range of commercial grade fabric colours

Made using Soundmesh® G8 (Further details below)

Unique acoustic and fireproof properties

Range of popular sizes - larger sizes will be made in two pieces (see note below)

Any size can be custom made - just email us what you need

Single Piece Screens are universal and can be turned around - (1200h x 1500w screen can be turned around to make a 1500h x 1200w screen)

5 Year Factory Commercial Use Warranty
**Price does not include Feet - Please refer to chart below to see feet requirements**
*These Screens are custom made to order so once they are ordered, fabric is cut and they are being made we can't cancel or refund this product so please make sure it is fit for purpose before you purchase it*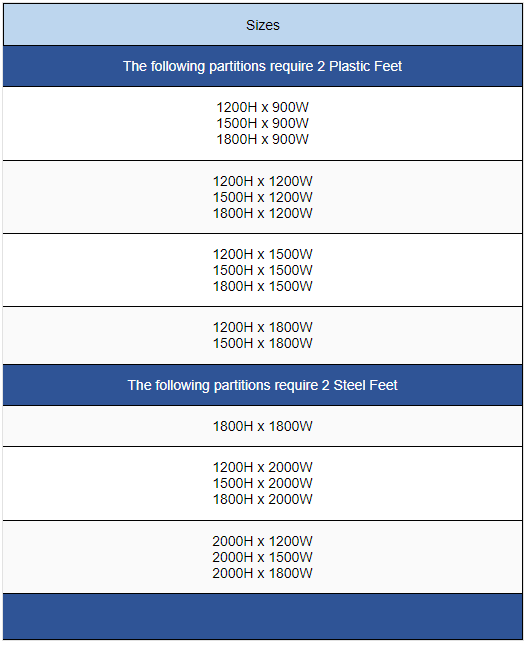 Noisy Workplace?
When a large number of people are working in one space, without any kind of office sound insulation, it's almost inevitable that sound will become a problem.
Those who spend lots of time on the phone also find noise distracting, particularly if their work is sensitive, and senior members of staff often prefer to work in a quiet, private environment.
What are Sound Barriers?
Sound barriers are used in workplaces, particularly open-plan offices, to reduce noise and create private spaces.
Although they don't completely eliminate chatter and other workplace sounds, they reduce office noise significantly and provide the privacy and quiet which many professionals crave in their busy and often crowded working environment.


How do our Sound Barriers work?
Our sound barrier partitions are built to reduce noise by breaking down sound waves in a space and trapping them inside the acoustic fabric.
They are made using Soundmesh® G8 which is a patented engineered material that is thin and tough with unique acoustic and fireproof properties.
Lessen Reverberation
Lessen Echo
Create Calmer Atmosphere
Limiting Muddling of Sounds
Reduc Office Noise


Key Features of Soundmesh® G8
Australian Made and Owned Acoustic Board
Soundmesh G8 is AS/MZS 3837 Group 1 Fire Rating
BCA Group 2 Classification.
IMO Resolution A653(16) compliant
Designed for maximum noise absorption
Tough, durable and (optional) water/fluid repellent facing
Environmentally friendly with 100% recyclable acoustic polyester wool
Long service life i.e., will not deteriorate when exposed to hot and humid conditions

Great colour range:

Additional Fabric Selection Option:
If you are matching or wanting to check colours please ask for a sample of the fabric to be posted out as colours may differ from the scanned samples on the website and these screens are made to order which makes them non-returnable.
Popular Sizes:
1200H x 900W

1200H x 1200W

1200H x 1800W

1500H x 900W

1500H x 1200W

1500H x 1500W

1500H x 1800W

1800H x 900W

1800H x 1200W

1800H x 1500W

1800H x 1800W

1800H x 2100W

2100H x 900W

2100H x 1500W
Product Note: All larger screens over 1200mm wide will be delivered as 2 screens with metal plate joiners for the top and bottom, this is for transport, movability and OH&S reasons. Once the screens are on site and in position the metal plates are fitted and they become 1 large screen. All screens have a stitched seam around the edge and can't be made without this seam. The acoustic honeycomb waffle pod cardboard that is used to clad these screens has a wavy corrugated edge so this will also make the edge of the screen once upholstered slightly wavy and the corners not as square as they were on the previous models, this is not a fault it is how the finish on all the screens is done. Screen Feet: All feet just slip onto the screens, they are removable and not fixed. The screen feet 350mm wide overall and stick out 150mm on each side. Do you want a custom size that is not listed - No problems just email us your sizes: [email protected] Images for these screens are for illustration purposes only the actual product may differ from the images on this page, the manufacturer reserves the right to make changes to this product at any time without prior notice this includes design and shape of the sewing, seams, corners, feet and any other part of the product that can change as part of the continual product improvement program.

*FREE delivery is valid when your order is $500 or more in Adelaide / $1,000 or more in Melbourne & Sydney / $2,000 or more in Canberra / $5,000 or more in Brisbane & Perth / $10,000 in Hobart / $15,000 or more in Darwin metro. All orders less than this amount or in other regional areas will be subject to our discounted delivery rates that can be quickly checked using the shipping estimate calculator on this page.
Shipping Information
For full shipping and delivery information please visit our Shipping Information page.
Click & Collect

Some products may be eligible for Click & Collect depending on the products you are after and the location you are in. Stock availability may vary from state to state. To check the location of stock in your state, please use the shipping estimator on product pages to find out where items are located.
Due to OH&S regulations, customers will be notified of the warehouse address once their order is picked, packed & ready for collection. Please do not attempt to collect your order without receiving confirmation it's ready for collection.

Where you see the "Click & Collect Options Available" label - Please use estimate shipping feature to see if products are available for click and collect in your current location. If you would like to check stock prior to ordering, or need your items urgently - please call 1300 313 495 and we will assist you with your order right away.