Arise Sit Stand Ergolator Desktop Riser
Arise Ergolator sits on your existing desk and lets you change posture through the day. Scissor structure with gas spring features smooth height adjustment. Available in Regular or Corner Shape.
Key Benefits
Arise Ergolator Sit-Stand Desktop Riser

Adjusts straight up and down. Always within easy reach

Gas Spring offers smooth supported height transition

12 available options for height adjustment

Support groove on the surface to mount smartphone & tablet

Ergonomic keyboard tray with multiple height adjustments and quick release

Built-in power grommets and USB ports for enhanced cable management

Adjustable tilting stand for use with documents, tablets and laptops

Advanced design avoids any danger of clamping injury

Easy height adjustment via one activation paddles

Hole mount for easy-fit single or dual monitor arms

10-Year Factory Warranty
Colours
Dimensions
Regular Shape Dimensions:
Corner Shape Dimensions: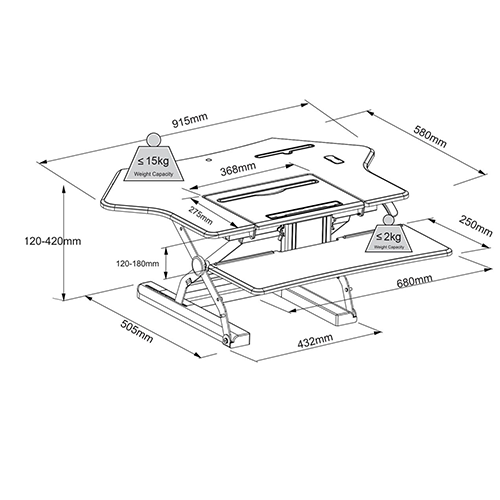 Shipping Information
For full shipping and delivery information please visit our Shipping Information page.
Click & Collect

Some products may be eligible for Click & Collect depending on the products you are after and the location you are in. Stock availability may vary from state to state. To check the location of stock in your state, please use the shipping estimator on product pages to find out where items are located.
Due to OH&S regulations, customers will be notified of the warehouse address once their order is picked, packed & ready for collection. Please do not attempt to collect your order without receiving confirmation it's ready for collection.

Where you see the "Click & Collect Options Available" label - Please use estimate shipping feature to see if products are available for click and collect in your current location. If you would like to check stock prior to ordering, or need your items urgently - please call 1300 313 495 and we will assist you with your order right away.