X4 Chair Genuine Premium Leather Executive Ergonomic Office Chair Auto Dynamic Variable Lumbar & Headrest
Hot Seller Note: The Rachet arm option in Cognac colour is discontinued. Other options are also selling fast! So, place an order to secure the stock.

The X-Chair is the fastest growing office chair brand in the USA! We are currently exclusive distributors of this brand new product!
X4 is draped in supple, premium leather. The seat, back, and headrest deliver a delicious comfort from the moment you touch. X-Chair's Flex Mesh Technology is still at work in the seatback, which features an innovative and attractive layer of mesh behind the leather to deliver the support you need with the comfort and style you deserve.
X-Chair's next-level ergonomics, sleek design, and premium materials are the envy of every office. This BRAND NEW Ergonomic Chair has taken off in the USA, we are one of the first authorized distributors for the X-Chair in Australia! Buy with us to get your hands on this brand new product. Meet the new standard in office seating. 10 ergonomic adjustments allow the X-Chair to fit your body like a glove. Fine-tune the arms, seat, back, headrest, and lumbar until you're relaxing in the most comfortable seat of your life. SciFloat Infinite Recline, DVL Support, Tilt Lock, and Flex Mesh technologies vault the X-Chair to the head of the pack, making it the most technologically ergonomic chair in the world. Choose from vibrant colour and material options to create a truly individualized workspace. Say goodbye to the constraints and discomfort of antiquated office technology. Say hello to X-Chair.
1. Dynamic Variable Lumbar (DVL) Support
The Dynamic Variable Lumbar (DVL) Support is X-Chair's greatest ergonomic feat of all & one that needs no adjusting. The DVL Support intuitively adjusts itself to your body every time you move. Responding to your weight, height, position, and the amount of pressure you place on it, the DVL Support pivots with you, keeping you comfortable and supported even as you change positions throughout the day. Be free to keep your mind on your work, not your back.
2. SciFloat Infinite Recline
Created specifically for X-Chair, SciFloat Infinite Recline facilitates motion throughout your day. Movement increases circulation, concentration, and energy levels & everything you need to boost both comfort and productivity in your workspace. Wheels are no longer the only thing a good office chair needs to keep you moving.
3. Tilt Tension & Tilt Lock

We made a masterful office chair, you get to adjust it to suit your preferences. Adjust the tilt tension to change the amount of resistance you feel as you recline. Whether you like a little or a lot of resistance, X-Chair's got you covered. Lock the chair in a reclined position for those times you need to put your feet up.
4. Height-Adjustable Backrest
X-Chair's independently adjustable backrest lets your raise the dynamic variable lumbar support to fit the curve of your back. Bring the dynamic variable lumbar support to a comfortable position and relax while it supports the natural shape of your spine.




5. Adjustable Seat Height
We don't know how tall you are. But you know, so we'll leave the height of your seat up to you. Easily adjust the seat height so your feet rest flat on the ground and your knees are at a 90⁰ angle.
6. Adjustable Seat Depth
At a proper seat depth, your lower back should be against the dynamic variable lumbar support and you should be able to fit 2 to 3 fingers between the edge of your seat and the backs of your knees. An improper seat depth puts undue pressure on the veins and lymph nodes behind your knee, and often leads to poor circulation, leg cramps, or your legs falling asleep. This is all avoidable with the X-Chair's adjustable seat depth.
7. Adjustable Headrest Height

People are built with different proportions, and X-Chair is ready to adjust. In addition to adjustable seat height and backrest height, X-Chair's headrest is height adjustable, so no matter your proportions you get to adjust the whole chair to fit you like a glove.
8. Adjustable Headrest Angle
Your head and neck do not stay in the same place all day, so neither should your headrest. Easily adjust the angle of X-Chair's headrest to find comfort no matter what position you want to sit in.
9. 4-Dimensional Arms
4-Dimensional armrests adjust forward and back, side-to-side, up and down, and pivot to an angle. No one keeps their arms in the same position all day, and X-Chair is ready to move with you.
10. Premium Mesh, ATR & Leather

All X-Chair fabrics disperse weight evenly across the chair to reduce pressure points. Advanced materials improve circulation and enhance support so you can sit comfortably all day. X1 uses Flex Mesh Technology, a breathable and durable mesh. X2's K-Sport advanced performance material features a tighter mesh weave for a softer feel. X3 introduces Advanced Tensile Recovery (ATR) fabric, a unique spacer weave designed for extra support and weight distribution. The X4 is covered in supple, ultra-comfortable premium leather or extraordinary Brisa – from Japan, the softest, most durable, most breathable fabric ever made. Each fabric comes in a variety of colours.
Optional Upgrades:
---
11. Massage Heat Lumbar - Convert your X2 to a Massage chair ( Optional Upgrade )

The same quality and comfort from X-Chair office seating, now with enhanced ergonomic therapy through heat and massage. X-Chair's X-HMT ® Heat and Massage Chair provides direct health benefits to its users by increasing blood flow, speeding muscle recovery, and reducing stress and anxiety. The X-HMT ® Heat and Massage Chair heightens productivity and boosts energy, through heat and massage targeted at the body's core, all while utilizing 10 ergonomic features. This dynamic massage chair exerts a constant or variable massage cycle with 2 levels of massage intensity (gentle or powerful) for a total of 4 massage program combinations. Coupled with heating capabilities, the innovative technology of the X-HMT ® creates a massage chair that can be used for everything from watching TV, to working on a proposal, to simply enjoying a therapeutic massage.
12. X-Chair Blade Castors
X-Wheel Blade Casters represent a breakthrough in seating technology and comfort. Just like a building, a chair is only as good as its foundation; and like a person, core stability is the key to health. The wheels on your chair are the foundation that creates core stability and leads to healthy, smooth, ergonomic movement.
Featuring 100% rubberized blade wheels and a free ball-bearing core, X-Wheel Blade Casters are quieter and smoother. They work better on hardwood and pile carpet alike, and they are more gentle on tile, hardwood, vinyl, carpet, and almost any surface. Ball-bearing swivels spin easily, preventing scuffing and scratching. And they look great! Simply put, for a small investment you can upgrade your chair's performance and enhance your seating experience.
Easily upgrade your X-Chair by the click of a button when choosing your options! CLICK HERE for more information on X-Chair Blade Castor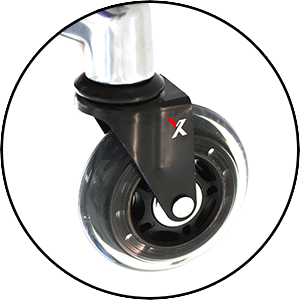 13. Active Luxurious M-Foam Seat Upgrade

The best just got better! X-Chair is excited to introduce our contoured M-Foam seat! Initially available in black only on standard width seats and wide seats for X3 and X4 model chairs, X-Chair spent over a year testing and tweaking memory foam formulations to develop M-Foam seats that provide the perfect balance of additional contouring and support. The result is a luxuriously comfortable seat for ideal weight distribution and enhanced longer hours of seating comfort. Once you experience the luxurious comfort of M-Foam you will never go back to a regular office seat!
Key Benefits:
A style for any office aesthetic

A price that won't break the bank

Ergonomics and technological innovations

Manufactured using quality materials sourced globally

Comfort you've been searching for

SciFloat Infinite Recline

Seat Sliding Mechanism

4-Dimensional Height Adjustable Armrests Ergonomically Approved




Independently Adjustable Headrest
The headrest can also be removed if you order a chair with one

Dynamic Variable Lumbar

Adjustable Backrest Height

Heavy Duty 5 Way Star Base

Twin Wheel Roller Point Casters

Various different options

High-Quality Premium Leather Upholstery

160kg weight rated & tested

15 Year Full Commercial Warranty**
Upholstery Colour Options:
Black Leather
Brown Leather
Cognac Leather
Red Leather
White Leather
Dimensions:


Elexmax Cooling, Heating & Massage Therapy Unit (Optional Upgrade)





Documents:
Download Assembly Instructions
Download Product Specifications
Shipping Information
For full shipping and delivery information please visit our Shipping Information page.
Click & Collect

Some products may be eligible for Click & Collect depending on the products you are after and the location you are in. Stock availability may vary from state to state. To check the location of stock in your state, please use the shipping estimator on product pages to find out where items are located.
Due to OH&S regulations, customers will be notified of the warehouse address once their order is picked, packed & ready for collection. Please do not attempt to collect your order without receiving confirmation it's ready for collection.

Where you see the "Click & Collect Options Available" label - Please use estimate shipping feature to see if products are available for click and collect in your current location. If you would like to check stock prior to ordering, or need your items urgently - please call 1300 313 495 and we will assist you with your order right away.