X-HMT Revolutionary Heat & Massage Therapy Unit Retro-Fit to your X-Chair or Compatible Office Chair
Free Australia Wide Shipping Offer*
The same quality and comfort from X-Chair office seating, now with enhanced ergonomic therapy through heat and massage. X-Chair's X-HMT ® Heat and Massage Chair provides direct health benefits to its users by increasing blood flow, speeding muscle recovery, and reducing stress and anxiety. The X-HMT ® Heat and Massage Chair heightens productivity and boosts energy, through heat and massage targeted at the body's core, all while utilizing 10 ergonomic features. This dynamic massage chair exerts a constant or variable massage cycle with 2 levels of massage intensity (gentle or powerful) for a total of 4 massage program combinations. Coupled with heating capabilities, the innovative technology of the X-HMT ® creates a massage chair that can be used for everything from watching TV, to working on a proposal, to simply enjoying a therapeutic massage.
Important Note: If fitting or using this X-HMT unit with any chair other than the X-Chair please check with our specialist team that it will fit and work prior to purchase 1300 313 495
Key Benefits:
Massage Modes: two modes to offer both constant and variable message patterns.
Massage Intensity: two levels of massage intensity (gentle and powerful).
Fast warming technology that delivers consistent heat up to 55 degrees C / 131 degrees F.
Heat and massage can be on at the same time.
After 15 minutes of use, the product will shut off automatically due to safety concerns.
Three different modes for your comfort.
Easy to charge while working with USB by the laptop or computer.
It comes with a 6-foot long cord wall charger.
Red charging light stays red when charging - Unit takes around 4 hours to charge from flat
Compatible with X1, X2, X3 and X4
3-years of warranty

Health Benefits:
Increase Blood Flow
Speed Muscle Recovery
Relaxes stiff muscles, thereby reducing stress and anxiety
Heightens Productivity
Boost Energy
Massage Intensity
The X-HMT® has two levels of massage intensity - Gentle and Powerful. Press the power Button once for the Gentle setting, two green lights will show on the button panel. Press the Massage Intensity button once for the Powerful intensity to begin, you will see two blue lights.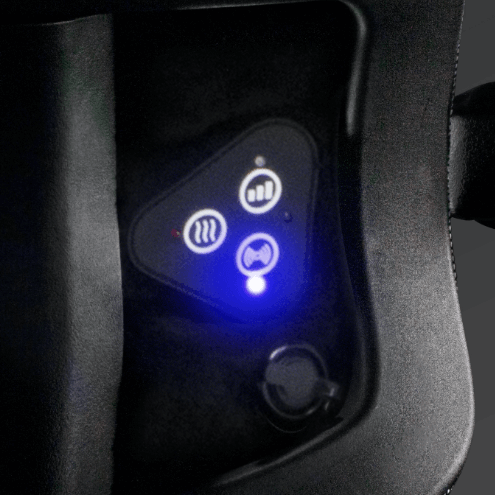 Modes
There are two different massage mode settings on the X-HMT® - Constant and Variable. The Constant setting is a steady vibration pulse and the Variable setting is a rhythmic vibration. To select the massage mode you'd like to use press the Modes Button once for Constant mode, press the Modes Button a second time for Variable mode, and a third time to turn it off.
Heat
Relax your muscles with the fast warming technology of the X-HMT®. Press the Heat button once to turn it on for consistent heat. The LED light will glow red and automatically shut off after 15 minutes of use. If only using the Heat function your X-HMT® will last for up to 7 cycles when fully charged or continuously when plugged in. 55 °C / 131 °F
Heat and Massage Therapy
The latest innovation to ergonomic work seating by X-Chair™ is here. Whether you're on the go in your car, sitting at your desk at work or home, or watching a movie the X-HMT® is there to provide heat and massage therapy and enhance your day.
Flexible and Versatile
Use the X-HMT® heat and massage unit on battery power or while charging. The X-HMT® unit comes with a wall charger and a USB cord that can be plugged into your computer or other devices.
Download Use Instructions
*FREE Shipping Offer covers most areas in Australia, some postcodes are exempt. Please check the following link to view postcodes that are not included in the free shipping: Shipping Guide | Postcode Exemptions.

Shipping Information
For full shipping and delivery information please visit our Shipping Information page.
Click & Collect

Some products may be eligible for Click & Collect depending on the products you are after and the location you are in. Stock availability may vary from state to state. To check the location of stock in your state, please use the shipping estimator on product pages to find out where items are located.
Due to OH&S regulations, customers will be notified of the warehouse address once their order is picked, packed & ready for collection. Please do not attempt to collect your order without receiving confirmation it's ready for collection.

Where you see the "Click & Collect Options Available" label - Please use estimate shipping feature to see if products are available for click and collect in your current location. If you would like to check stock prior to ordering, or need your items urgently - please call 1300 313 495 and we will assist you with your order right away.