Express Sled Based Stacking Visitor Chair Medical Healthcare Seating Black Vinyl Metal Frame 165kg Weight Rated
The Express Sled Base Chair is perfectly designed with a super strong metal frame that is finished in a durable chrome coating. With padded Dunlop endure foam seat and backrest this chair is both comfortable and stylish. Easily stackable and available in black PU.
Minimum Order Quantity: 4 Chairs

Key Benefits
Super-strong metal frame

The Sled Style Base frame is stackable

The frame is finished in a durable chrome coating

Light Weight but very durable construction

Seat & Back Rest Shaped Marine Grade Plywood

Padded Dunlop endure foam seat & backrest

Commercial Grade Washable Black Vinyl

165kg weight rated & tested

Fully assembled

Floor protectors (these can be removed if required)

10 Year Factory Commercial Warranty
Dimensions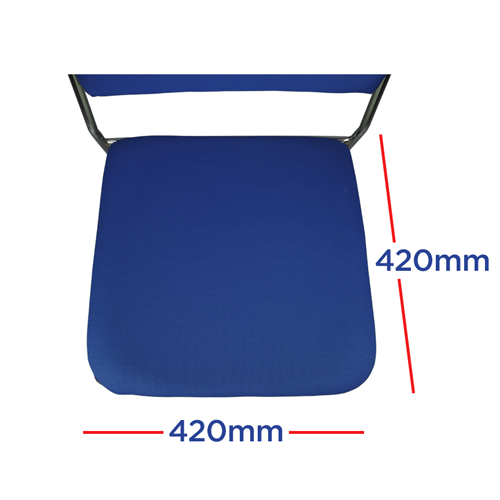 Trolley
Express Sled Base Chairs can be stacked and moved around with absolute ease. All you need is the Express Sled Chair Base Trolley.
*FREE delivery is valid when your order is $500 or more in Adelaide / $1,000 or more in Melbourne & Sydney / $2,000 or more in Canberra / $5,000 or more in Brisbane & Perth / $10,000 in Hobart / $15,000 or more in Darwin metro. All orders less than this amount or in other regional areas will be subject to our discounted delivery rates that can be quickly checked using the shipping estimate calculator on this page.
Shipping Information
For full shipping and delivery information please visit our Shipping Information page.
Click & Collect

Some products may be eligible for Click & Collect depending on the products you are after and the location you are in. Stock availability may vary from state to state. To check the location of stock in your state, please use the shipping estimator on product pages to find out where items are located.
Due to OH&S regulations, customers will be notified of the warehouse address once their order is picked, packed & ready for collection. Please do not attempt to collect your order without receiving confirmation it's ready for collection.

Where you see the "Click & Collect Options Available" label - Please use estimate shipping feature to see if products are available for click and collect in your current location. If you would like to check stock prior to ordering, or need your items urgently - please call 1300 313 495 and we will assist you with your order right away.