Height Adjustable Table Mobile Lectern Office Home Sit Stand Desk

Hydraulic action height adjustable mobile greeting table at push of a lever with 2 lockable castors. Made to be moved it comes with small but wide wheels that maximise contact surface area to the floor in addition to a stable h-shaped table base. This sit/stand product is designed to be used as a lectern and a table. Height is adjustable from 670mm to 1000mm. Table top dimensions are 695 W x 470 D x 25 mm.
Table Mode Ideas:
Meet and greet at Exhibitions

Visitor registrations or voting

Spare examination table or projector stand

Lightweight table for wheelchair users

Portable meals table for chair-bound users

At a push of a paddle,
Lectern Mode:
Formal Introductions

Meeting room announcements

For primary, secondary and tertiary students and school staff

Raise the height for students and teachers

Product Dimensions:
Total height: 670mm adjustable to 1100mm

Table top length: 694mm

Table top depth: 474mm

Table top shape: Oval with bevel edge

Lever distance from table: 135mm

Base dimensions: 700mm width between back legs, widest part where user stands
435mm between back front legs and 580mm between front and back wheels. Base height: 165mm

25kg maximum table top weight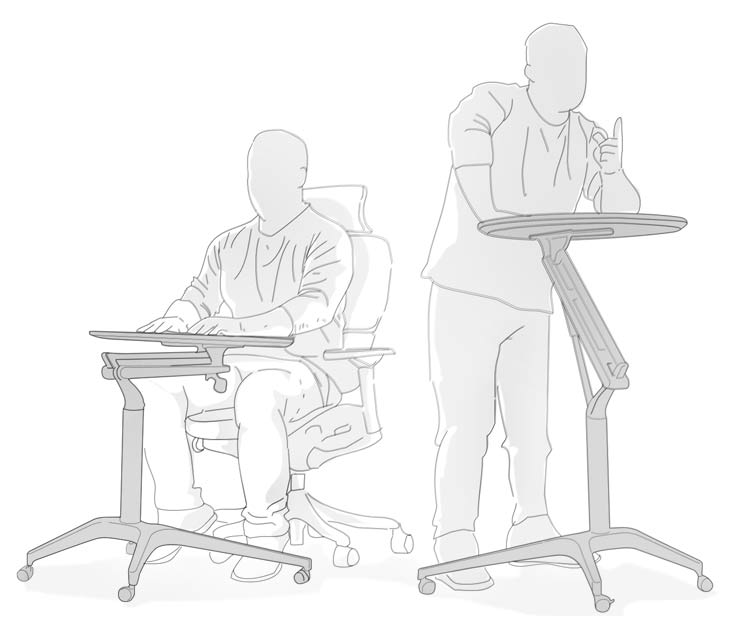 ( Person height in image reference: 171cm)
*FREE delivery is valid when your order is $500 or more in Adelaide / $1,000 or more in Melbourne & Sydney / $2,000 or more in Canberra / $5,000 or more in Brisbane & Perth / $10,000 in Hobart / $15,000 or more in Darwin metro. All orders less than this amount or in other regional areas will be subject to our discounted delivery rates that can be quickly checked using the shipping estimate calculator on this page.
Shipping Information
For full shipping and delivery information please visit our Shipping Information page.
Click & Collect

Some products may be eligible for Click & Collect depending on the products you are after and the location you are in. Stock availability may vary from state to state. To check the location of stock in your state, please use the shipping estimator on product pages to find out where items are located.
Due to OH&S regulations, customers will be notified of the warehouse address once their order is picked, packed & ready for collection. Please do not attempt to collect your order without receiving confirmation it's ready for collection.

Where you see the "Click & Collect Options Available" label - Please use estimate shipping feature to see if products are available for click and collect in your current location. If you would like to check stock prior to ordering, or need your items urgently - please call 1300 313 495 and we will assist you with your order right away.