Metal Mesh 5 Piece Desk Accessory Kit
Availability:In Stock

Brand: OFD-021

Product Code:

VS-005
---
Metal Mesh 5 Piece Desk Accessory Kit
Free Shipping and Handling Australia Wide*
5 piece desk accessory kit with pen cup, paper cube, business card holder, mobile phone holder and general storage tray.
Features:
Everything you need to impress the boss

Turn that disaster of a desk .. into perfect oasis of calm !

Available in Black & Pewter - shrink wrapped

Package size is : 120 x 28 x 90mm (with 5 items inside)
Desk Set includes :

1 x Pen cup

1 x Memo paper cube

1 x Business card holder

1 x Mobile phone holder

1 x General storage tray
Dimensions :

Pen Cup:
Height: 95mm
Diameter: 80mm

Memo Paper Cube:
Lenght: 95mm
Width: 95mm
Height: 95mm

Business Card Holder:
Lenght: 802mm
Width 124mm:
Height: 90mm

Mobile Phone Holder:
Height: 103mm
Width: 60mm
Depth: 35mm

General Storage Tray
Lenght: 802mm
Width: 124mm
Height: 90mm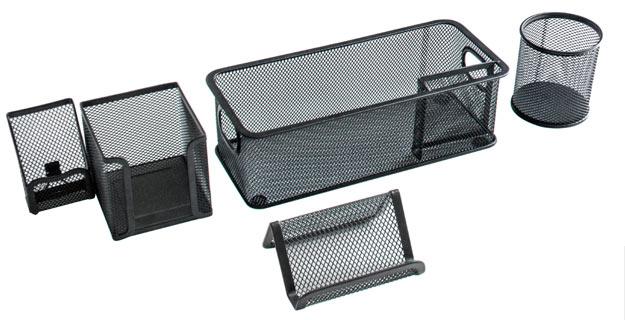 *Free shipping is provided to most metro areas Australia wide. Some locations are excluded. Estimate shipping in shopping cart to check.
Tags: desk kit, accessory kit, pen cup, paper cube, business card holder, mobile phone holder, storage